Macau Business: A place to park your cash
Private parking spots are proving to be a good investment,with double-digit rates of return
By-MANDYWONG
As the government tries to cool the residential property market in Macau, investors are looking to private parking space as a cheaper but also profitable alternative. The lack of parking spots in the city and the growing number of private vehicles almost makes such investment a no-brainer, industry insiders say.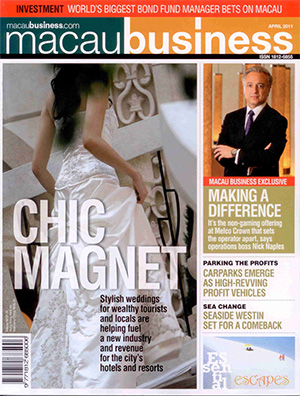 What is more,the authorities have already warned they are considering increasing public parking fees, besides introducing other measures to promote public transport. So it is expected that the price for private parking space will continue to go up in the near term.
According to the real estate registry, a car parking spot in the crowded Areia Preta district can cost up to MOP750,000(US$93,750), 25 times more than in 2005.
Eric Chan Lik Ki,the general manager of CarparKing Co Ltd, a real estate agency specialising in parking space, says prices are expected to continue to rise this year.
The company's figures indicate that last year a parking spot on Avenida Horta e Costa could fetch up to MOP950,000,50 percent higher than a year before. Prices have also risen in areas like NAPE, where there was an increase of 30 to 40 percent last year,Mr Chan says.
In Taipa and Coloane, parking space is not as scarce as it is on the peninsula but prices have surged by more than 40 percent in some areas, he says. There are two driving factors: the low base for comparison and the construction of hotels and high-end housing.
In the fourth quarter of last year, 2,990 car and motorcycle parking spots were sold, more than double the number sold in the third quarter,Statistics and Census Service data show. The average price was MOP319,000, 42percent more than in the fourth quarter of 2009. In contrast, the average price of residential space in the fourth quarter of last year was MOP33.397 per square metre, 30 percent more than a year before.
High demand
Mr Chan says demand for private cars and parking space alike has gone up with the rapid economic development that has followed the liberalisation of the gaming industry. But it is only recently that a rise in the supply of parking space has begun to follow the rise in demand. According to official figures, 5,100 new car parking spots were built last year, when the number of private cars grew by only 3,300.
However, demand has always been greater than supply.
Mr Chan estimates that there are only about 40,000 private parking spots, meaning there is roughly one for every two private cars. Exacerbating the shortage of parking space is the practice of owning more than one parking spot-typically one where you live and another where you work.
For the government, this is not a big problem. Officials have often dismissed the idea that there is lack of available parking by remarking that several public car parks are still far from being fully utilised, particularly their motorcycle bays. Even so, the government has been encouraging the inclusion of parking space in new developments.
Developers agree with the need for more parking space. In February, the head of the Macau Ceneral Real Estate Association, Chong Sio Kin, said the government should make it a policy to allow developers to add more parking space in residential projects in response to increasing demand.
Low maintenance
Some investors contacted by Macau Business said they had already seen the value of their parking slots increase 20-fold.
The rise in prices is due not only to economic growth but also to the 2007 traffic law, which increased fines for parking offences and made it tougher to avoid pauing them,thus increasing the attraction of private parking spots.
Buying parking space, whether you want it for your own use, for renting out or for a long-term invesment,is a peculiarity of Macau, says Mr Chan.
The cost of a parking spot can be below MOP1 million, making it a real estate invesment within the reach of many people that cannot afford to invest in residential or commercial real estate. You can even get a mortgage from a bank for parking space. And it is a type of real estate that is easier to manage than residential or commercial property, having low maintenance costs.
Mr Chan says the average rent for a parking spot can be close to MOP2,000 in areas where few other options are available.
He says a short-term investment in parking space in Avenida Horta e Costa, Patane or Areia Preta is likely to deliver good returns because demand exceeds supply there, at least for now. Taipa and Coloane are good for long-term investment, because of the big residential and other projects due to be undertaken there, Mr Chan advises.
ADDITIONAL REPORTING BY EMANUEL GRACA