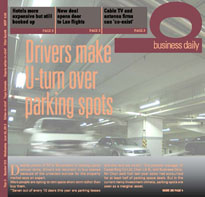 An estate agent says 70 percent of parking space deals so far this year have been leases
More people are opting to rent car parking spaces rather than buy them because of the uncertain outlook for the property market, an estate agent that specialises in parking spaces says.
"Seven out of every 10 deals this year are parking leases and the rest are sales," the general manager of CarparKing Co Ltd, Chan Lik Ki, told Business Daily.
Mr Chan said that last year sales had accounted for 50 percent to 60 percent of parking space deals.
"Buyers are wary about an adjustment in the property market, as they see the sluggish prospects for the Hong Kong market," he said.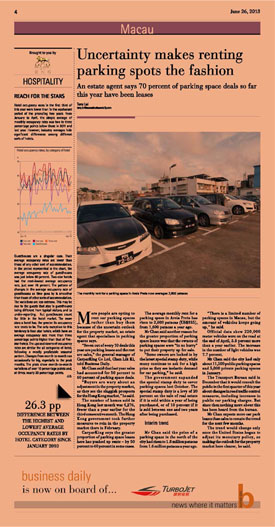 The number of homes sold in Hong Kong last month was 4,276, fewer than a year earlier for the third consecutive month. The Hong Kong government took further measures to rein in the property market there in February.
CarparKing says the greater proportion of parking space leases here has pushed up rents – by 50 percent to 60 percent in some cases.
The average monthly rent for a parking space in Areia Preta has risen to 2,600 patacas (US$325), from 1,600 patacas a year ago.
Mr Chan said another reason for the greater proportion of parking space leases was that the owners of parking spaces were "in no hurry" to put their property up for sale.
"Some owners are locked in by the latest special stamp duty, while many continue to ask for a high price as they see inelastic demand for car parking," he said.
The government expanded the special stamp duty to cover parking spaces last October. The special stamp duty is a levy of 20 percent on the sale of real estate if it is sold within a year of being purchased, or of 10 percent if it is sold between one and two years after being purchased.
Interim trend
Mr Chan said the price of a parking space in the north of the city had risen to 1.8 million patacas from 1.6 million patacas a year ago.
"There is a limited number of parking spaces in Macau, but the amount of vehicles keeps going up," he said.
Official data show 220,000 motor vehicles were on the road at the end of April, 5.3 percent more than a year earlier. The increase in the number of light vehicles was 7.7 percent.
Mr Chan said the city had only about 11,500 public parking spaces and 5,000 private parking spaces in January.
"The owners were quick to adjust to the new curbs. They either increased their prices by 20 percent to 30 percent or stopped selling temporarily," said Mr Chan.
The Transport Bureau said in December that it would consult the public in the first quarter of this year about changes in road traffic control measures, including increases in public car parking charges. But since then nothing more about this has been heard from the bureau.
Mr Chan expects more car park leases than sales to remain the trend for the next few months.
The trend would change only once the United States began to adjust its monetary policy, so making the outlook for the property market here clearer, he said.