Average selling price in November of single space was MOP1.35 million
Car users will probably pay more this year to get private car parking spaces. The property market value of such spaces to investors is likely to rise 20 percent this year driven by limited supply, according to the property agents.
The likely price surge this year is not however as much as the territory experienced in the past 12 months.
"The price will go up between 10 percent and 20 percent from last year as the Macau's economy remains in a positive tone," Chan Lik Ki, general manager of CarparKing Co Ltd, told Business Daily.
"The Transport Bureau has also not laid out any major policy in curbing the number of motor vehicles," said the manager of the firm specialising in such transactions. "There is not – for the foreseeable future – any large amount of car-parking supply," he added.
Jennifer Un, district director of Ricacorp (Macau) Properties Ltd, forecast rises in car park space property values of "some 10 percent" due to "an imbalance of supply and demand".
Transport Bureau director Wong Wan said on Tuesday in a Legislative Assembly session that the administration would first improve the public transportation and the parking environment before considering any curbs on private motor vehicle numbers in the city.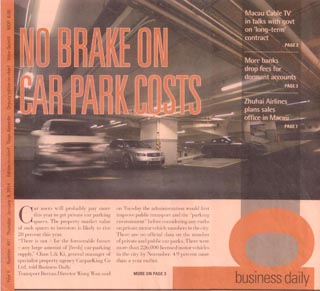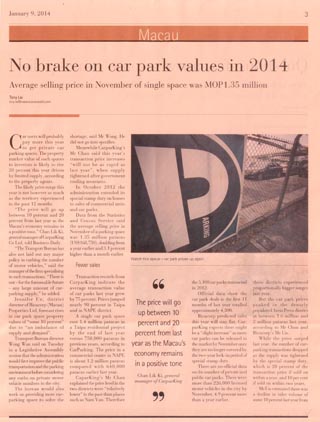 The bureau would also work on providing more car-parking space to solve the shortage, said Mr Wong. He did not go into specifics.
Meanwhile CarparKing's Mr Chan said this year's transaction price increases "will not be as rapid as last year", when supply tightened after government cooling measures.
In October 2012 the administration extended its special stamp duty on homes to sales of commercial units and car parks.
Data from the Statistics and Census Service said the average selling price in November of a parking space was 1.35 million patacas (US$168,750), doubling from a year earlier and 3.1 percent higher than a month earlier.
Fewer sales
Transaction records from CarparKing indicate the average transaction value of car parks last year grew by 75 percent. Prices jumped nearly 90 percent in Taipa and in NAPE district.

A single car park space cost 1.4 million patacas in a Taipa residential project by the end of last year versus 750,000 patacas in previous years, according to CarParking. The price in a commercial centre in NAPE is about 1.2 million patacas compared with 640,000 patacas earlier last year.

CaparKing's Mr Chan explained the price level in the two districts were "relatively lower" in the past than places such as Nam Van. Therefore those districts experienced proportionally bigger surges last year.
But the car park prices peaked in the densely populated Areia Preta district at between 1.6 million and 2 million patacas last year, according to Mr Chan and Ricacorp's Ms Un.
While the price surged last year, the number of car-parking transactions dropped as the supply was tightened by the special stamp duty, which is 20 percent of the transaction price if sold on within a year, and 10 per cent if sold on within two years.
Ms Un estimated there was a decline in sales volume of some 10 percent last year from the 5,100 car parks transacted in 2012.
Official data show the car park deals in the first 11 months of last year totalled approximately 4,300.
Ricacorp predicted sales this year will stay flat. CarparKing expects there might be a "slight increase" as more car parks can be released to the market by November once they are no longer covered by the two-year lock-in period of special stamp duty.
There are no official data on the number of private and public car parks. There were more than 226,000 licensed motor vehicles in the city by November, 4.9 percent more than a year earlier.